Case #1
Carotid Cavernous Fistula
Alex W. Cohen, MD, PhD; Richard Allen, MD, PhD
Revision posted December 18, 2019; Original posted May 14, 2010
Chief Complaint
Double vision
History of Present Illness
A 46-year-old female patient presented to the Oculoplastics Clinic reporting double vision and visual distortion. The patient first noticed binocular horizontal diplopia two months prior to her visit. She described diplopia in primary position that worsened in right gaze and she had resorted to wearing an occlusive patch in order to control her symptoms. Three months prior to the current visit, the patient noted the presence of a large blood vessel above her right eye. She also reported a whooshing sound in her right ear that had been present for 2-3 months.
Past Ocular History
The patient was in a bicycle accident four months prior during which she sustained a small zygomaticomalar complex fracture (Figure 1). The patient was seen in the ophthalmology clinic three weeks later and was noted to have no diplopia, no gaze restriction, and a normal eye exam. She was asked to follow up two months later.
Medical History
Depression
Medications
Claritin® (loratadine)
Family History
Substance abuse, neck cancer, heart disease
Social History
Non-contributory
Physical Exam
Visual Acuity (without correction)
Extraocular motility: -3 abduction deficit OD and Full OS (see figure 2)
Pupils: OD 6mm dark, 4 mm light; OS 6 mm dark, 4 mm light; No relative afferent pupillary defect (RAPD)
Intra-ocular pressure: 14 mmHg OD, 12 mmHg OS
Confrontation visual fields (CVF): Full OD and OS
Hertel: 21 mm OD, 17 mm OS, base 95 mm
External examination: Venous engorgement of the right upper and lower eyelids; Orbital bruit present over the right eye (see Figure 3).
Anterior segment examination: Conjunctival injection OD. Otherwise normal examination OU
Dilated funduscopic exam: Normal macula, vasculature and periphery OU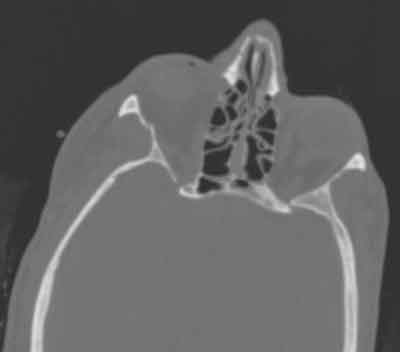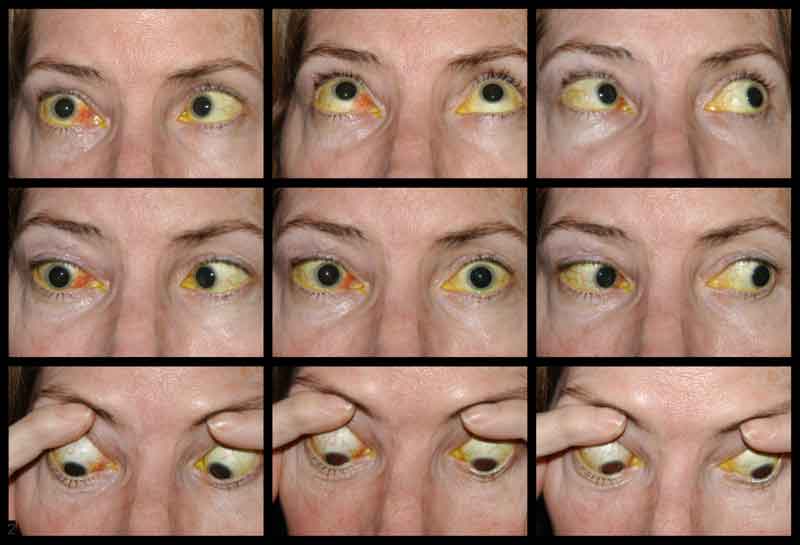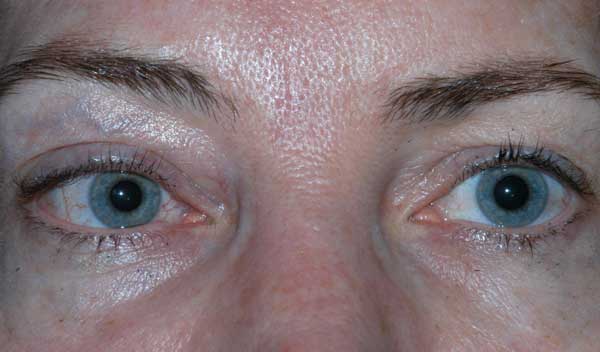 Course
A presumptive diagnosis of right-sided carotid cavernous fistula (CCF) was made based on clinical suspicion and the findings of proptosis, venous engorgement, orbital bruit, and abduction deficit. The patient was sent for MRI/MRA imaging of the brain that afternoon. The images demonstrated a right CCF as well as a markedly dilated right superior ophthalmic vein (Figures 4, 5, and 6). The patient was then seen in the Neurointerventional Clinic and scheduled for coiling of the fistula later that week.
The patient underwent coiling of the right internal carotid artery (Figures 7 and 8). During the procedure, a high flow, expansive connection between the artery and the cavernous sinus and collateral veins was noted. There was also extensive arterial damage to the right cavernous internal carotid artery consistent with dissection. Good flow was seen to cross a patent anterior communicating artery, so the fistula was treated with right internal carotid artery sacrifice, using coil embolization. Fortunately, the right ophthalmic artery remained perfused via collateral circulation. After the procedure the patient had an unremarkable hospital course and she was discharged home six days later.
| | |
| --- | --- |
| | |
| Figure 4: Magnetic Resonance Angiogram (MRA) image demonstrating an enlarged superior ophthalmic vein (arrow). | Figure 5: MRA demonstrating a right carotid cavernous fistula (arrow) |
| | |
| --- | --- |
| | |
| Figure 7: Intraoperative image demonstrating coil being deployed within the internal carotid system | Figure 8: Postoperative image showing coils within the internal carotid artery |
---
Case #2
Acute Post-traumatic Direct Carotid Cavernous Fistula
Authors: Dabin Choi, BS; Matthew Benage, MD; Bryce R. Radmall, MD; Audrey C. Ko, MD; Erin M. Shriver, MD
Posted December 18, 2019
Chief Complaint
Concern for orbital compartment syndrome after fall trauma
History of Present Illness
A 62-year-old male presented to the Emergency Department with polytrauma to the face secondary to a fall from a 20-foot ladder. The patient's subjective complaints and history were not assessable due to the severity of his injuries and sedation status. On initial computed tomography (CT) of the head, the patient was found to have a subarachnoid hemorrhage, a right epidural hematoma, a basilar skull fracture, and multiple facial fractures. Ophthalmology was consulted due to concern for bilateral orbital compartment syndrome and a LeFort III fracture involving the bilateral inferior orbital walls.  Intraocular pressure (IOP) was initially reported to be 80-90 mmHg in the right eye and 60-70mmHg in the left eye by the emergency medicine physician. Bilateral canthotomies and cantholyses of the superior and inferior lateral canthal tendons were performed at the bedside by the emergency medicine physician prior to evaluation by ophthalmology.  With canthal release, IOP remained elevated at 46mmHg OD and 37mmHg OS.
Past Ocular History
None
Past Medical History
Parathyroid surgery
Medications
Unable to obtain due to patient sedation and intubation status
Allergies
No Known Drug Allergies
Family History / Social History
Unknown
Review of Systems
Unable to obtain as patient was sedated and intubated
OCULAR EXAMINATION
Intraocular Pressure (IOP)
At presentation (Tonopen by emergency medicine physician)
Status post bilateral canthotomy and cantholysis of the superior and inferior lateral canthal tendons (Tonopen by ophthalmology)
Pupils
OD: 4 mm in dark, 4 mm in light, round, fixed
OS: 3 mm in dark, 3 mm in light, round, fixed
External
Tense orbits bilaterally, resistance to retropulsion right > left, proptosis OU
Slit lamp exam
Lids/lashes: Upper and lower canthotomy/cantholysis with lids easily distracted from globe OU
Conjunctiva/sclera

Significant chemosis OU
Trace tortuosity of scleral vessels OD > OS

Cornea:
Anterior chamber:

Deep and quiet, well-formed OU

Iris:

Round, fixed and mid-dilated OU
Fundus examination
Disc: Tilted, peripapillary atrophy (PPA), tenuously perfused OU
Macula: Normal OU
Vessels: Prominent spontaneous venous pulsations OU

OD: Central retinal artery pulsations – occludable with moderate pressure on the globe
OS: Central retinal artery perfused
Differential diagnosis of elevated IOP in the setting of trauma and orbital fractures
Orbital compartment syndrome secondary to orbital hemorrhage
Traumatic hyphema or microhyphema
Direct carotid cavernous fistula
CLINICAL COURSE
Bilateral orbital floor fractures and a LeFort III fracture were noted on his initial maxillofacial CT scan, in addition to enlargement of the right superior ophthalmic vein and hyperdensity of the right cavernous sinus.  A CT angiogram was performed (Figure 1) which demonstrated arterialization of the right cavernous sinus.  A diagnosis of direct right-sided carotid cavernous fistula (CCF) was made based on these findings. The patient's proptosis, persistently high IOP despite lateral canthotomy and cantholysis, and venous pulsations with tenuous perfusion of the right optic disc were all consistent with this diagnosis. Neuro-interventional radiology was consulted. The patient underwent coiling and injection of a liquid embolic agent (Onyx®) for embolization of the right CCF (Figure 2 and 3).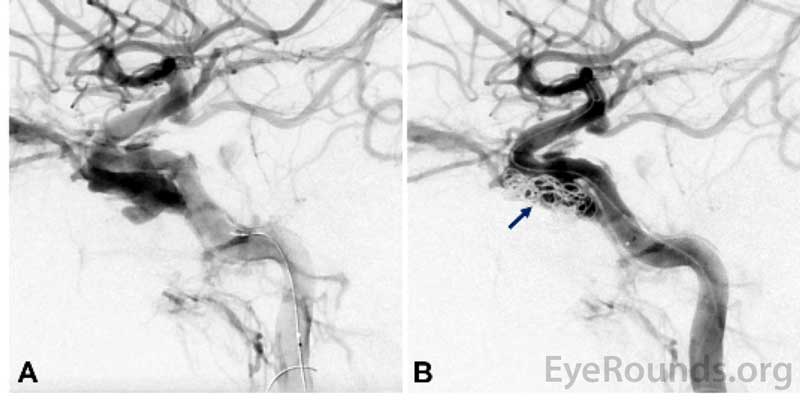 After the procedure, the IOP improved to 20mmHg OD and 10mmHg OS. The patient demonstrated improvement of proptosis, chemosis, and venous pulsations bilaterally. After the orbital swelling subsided a few days later, the patient underwent orbital floor fracture repair with plating of the bilateral inferior orbital rims.
The patient's visual acuity at initial presentation was not assessable due to the severity of his injuries and sedation status. After the coiling of the CCF and the facial fracture repairs, the patient's vision was bare light perception in the right eye and 20/100 eccentrically in the left eye. At the patient's one month follow up visit, the visual acuity was no light perception in the right eye and 20/50 in the left eye with pinhole. He had fixed pupils bilaterally.  Posterior exam showed pallor of the right optic nerve head. The patient also had partial ophthalmoplegia in the right eye and left cranial nerve III and IV palsies (Figure 4). He was exotropic and had left upper lid ptosis with poor levator function (MRD1 = - 4 mm) (Figure 5). The patient reported that he had to lift his chin up and hold the left eyelid open in order to see out of the left eye. Ptosis repair with frontalis sling on the left was recommended and successfully underwent the operation. While left with residual motility deficits, the ptosis improved, and he was discharged from the oculoplastics clinic (Figure 6).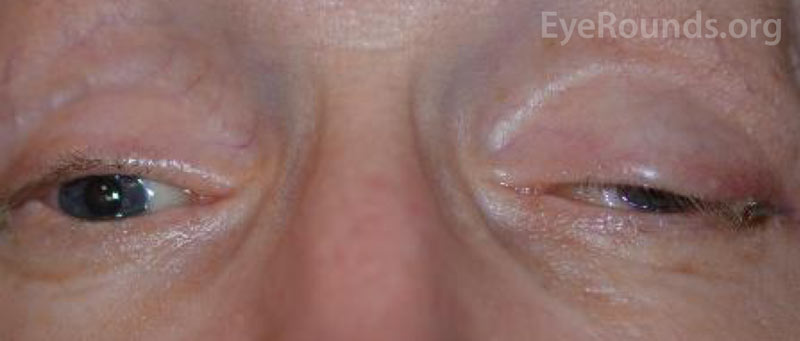 DIAGNOSIS
Acute traumatic direct carotid cavernous fistula, resulting in multiple bilateral cranial nerve palsies and bilateral (right > left) optic neuropathies from elevated IOP and ischemia
DISCUSSION
Pathophysiology/Etiology/Epidemiology
A carotid cavernous fistula (CCF) is an abnormal passage between the venous cavernous sinus and the internal carotid artery. CCFs are classified into two main types based on their pathophysiology, direct (type A) and indirect (type B-D) [1, 2], as shown in Figure 1.  
Direct CCFs
Type A CCF is the result of a tear in the internal carotid wall causing a single high flow fistula that directly connects the internal carotid artery and cavernous sinus.
Indirect CCFs
Indirect CCFs are low-flow fistulas between meningeal branches of the internal carotid artery system and the cavernous sinus. Indirect CCFs generally have mild symptoms of dilated conjunctival vessels and proptosis. The disease course may be chronic in nature, making a delay in diagnosis and treatment [3].
Type B CCF is a dural shunt between intracavernous branches of the internal carotid artery and the cavernous sinus.
Type C CCF is a connection between meningeal branches of the external carotid artery and the cavernous sinus.
Type D CCF is a dural shunt between meningeal branches of both the internal and external carotid arteries and the cavernous sinus.
Type A CCFs are the most common type of CCF following head trauma. McManus et al found that direct Type A CCFs occur in up to 4% of patients with a basilar skull fracture. A direct CCF can occur secondary to spontaneous rupture of an internal carotid artery aneurysm or arterial dissection. In a Type A CCF, the high pressure within the internal carotid system flows into the venous cavernous sinus and leads to ophthalmic venous hypertension and pulsations, which are hallmarks of CCF [4].
The incidence of decreased visual acuity or vision loss due to CCFs has been reported to vary between 29% and 63% [5].The mechanism of visual impairment from a CCF is related to the generation of ophthalmic venous hypertension, which leads to stagnant-flow anoxia causing ischemia of the optic nerve. Mechanical compression of the optic nerve caused by either elevated intraocular pressure or a distended cavernous sinus can also lead to optic neuropathy [6]. Prompt diagnosis and intervention are crucial in all CCF patients to prevent irreversible damage to vision.
Signs/Symptoms
Patients with direct CCFs often present acutely with clinical signs and symptoms that are more severe than with indirect CCFs. The most common signs of direct CCFs include sudden onset of elevated intraocular pressure, engorgement of conjunctival veins, chemosis, and orbital bruits [2, 4]. A high-flow direct CCF fistula can also result in progressive pulsatile proptosis.  Patients with CCFs frequently report headache, decreased visual acuity, and diplopia. CCFs can result in neuro-ophthalmologic complications including ophthalmoplegia and cranial nerve palsies.
In one retrospective study of 11 traumatic CC fistulas, the most common clinical signs were proptosis, dilated conjunctival vessels, and an orbital bruit, all of which were found in 100% of the patients. The second most common clinical finding was conjunctival chemosis, occurring in 10 patients. Eight of the 11 patients had a sixth nerve palsy, 5 had a third nerve palsy, and 5 had a fourth nerve palsy. An efferent pupillary defect secondary to a third nerve palsy was present in 5 patients.  Less common findings included elevated intraocular pressure (3 patients), loss of vision (2 patients), optic disc edema (2 patients), and dilated retinal vessels (4 patients) [3, 7].
Imaging/Treatment/Management
Cerebral angiography is considered the gold standard for diagnosing a CCF. Non-invasive imaging modalities such as computed tomography angiography and magnetic resonance angiography can help make a presumptive diagnosis of CCF, but do not definitively confirm its presence [2].
Conservative management, such as external manual compression of the ipsilateral cervical carotid artery several times a day for 4-6 weeks, may be effective in the treatment of indirect, low-flow CCFs. It has been reported that 20-60% of patients with indirect CCFs have spontaneous resolve of fistula [3]. When conservative management is used, it is important to have a close follow-up with serial vision tests, intraocular pressure measurements, and fundoscopic examinations. However, conservative management is often ineffective in the treatment of direct, high-flow CCF.
Endovascular closure of the fistula is the primary goal for treatment of direct CCF. Coiling or use of liquid embolic agents have been the predominant methods of obliterating CCFs [4, 8].  Non-adhesive liquid embolic agents, such as ethylene vinyl alcohol copolymer (Onyx®), have shown some advantages over coils. A liquid embolic agent can be injected more slowly and deliberately due to its gradual polymerization properties, which minimizes the need for repeated administration. However, liquid embolic agents penetrate the vasculature deeply and may cause complications such as postembolization thrombosis and swelling, resulting in transient cranial nerve ischemia [9]. The combined use of coils and liquid embolic agents has been shown to be an effective treatment option for CCFs. In one study, treatment of 16 patients with a direct CCF using combined coiling and embolic agent demonstrated successful occlusion of all CCFs with resolution of clinical symptoms and no worsening of cranial neuropathies during a follow-up period of 33 months [10].
EPIDEMIOLOGY OR ETIOLOGY

Head / orbital trauma
Internal carotid artery aneurysm
Internal carotid artery dissection

SIGNS

Proptosis
Orbital bruit
Chemosis
Corkscrew vessels of the conjunctiva
Cranial nerve palsy
Ophthalmoplegia
Elevated intraocular pressure
Venous pulsations
Upper eyelid ptosis
Heme in Schlemm's canal on gonioscopy

SYMPTOMS

Headache
Decreased vision
Diplopia
Pulsatile tinnitus

TREATMENT/MANAGEMENT

Coil and liquid embolic agent embolization
Detachable balloon catheter
Stent graft placement
Observation
References
Barrow DL, Spector RH, Braun IF, Landman JA, Tindall SC, Tindall GT. Classification and treatment of spontaneous carotid-cavernous sinus fistulas. J Neurosurg 1985;62(2):248-256.  https://PubMed.gov/3968564. DOI: 10.3171/jns.1985.62.2.0248
Henderson AD, Miller NR. Carotid-cavernous fistula: current concepts in aetiology, investigation, and management. Eye (Lond) 2018;32(2):164-172.  https://PubMed.gov/29099499. DOI: 10.1038/eye.2017.240
Ellis JA, Goldstein H, Connolly ES, Jr., Meyers PM. Carotid-cavernous fistulas. Neurosurg Focus 2012;32(5):E9.  https://PubMed.gov/22537135. DOI: 10.3171/2012.2.Focus1223
McManus NM, Offman RP, Provatas TL, Sievertsen EE. An Eye with a Heartbeat: Carotid Cavernous Fistula–a Case Report. The Journal of Emergency Medicine 2018;https://doi.org/10.1016/j.jemermed.2018.05.015. DOI: https://doi.org/10.1016/j.jemermed.2018.05.015
Miller NR. Diagnosis and management of dural carotid-cavernous sinus fistulas. Neurosurg Focus 2007;23(5):E13.  https://PubMed.gov/18004961. DOI: 10.3171/foc-07/11/e13
Yu JK, Hwang G, Sheen SH, Cho YJ. Bilateral visual loss as a sole manifestation complicating carotid cavernous fistula. J Korean Neurosurg Soc 2011;49(4):229-230.  https://PubMed.gov/21607182. DOI: 10.3340/jkns.2011.49.4.229
Brosnahan D, McFadzean RM, Teasdale E. Neuro-ophthalmic features of carotid cavernous fistulas and their treatment by endoarterial balloon embolisation. J Neurol Neurosurg Psychiatry 1992;55(7):553-556.  https://PubMed.gov/1386382. DOI: 10.1136/jnnp.55.7.553
Ringer AJ, Salud L, Tomsick TA. Carotid cavernous fistulas: anatomy, classification, and treatment. Neurosurg Clin N Am 2005;16(2):279-295, viii.  https://PubMed.gov/15694161. DOI: 10.1016/j.nec.2004.08.004
Elhammady MS, Wolfe SQ, Farhat H, Moftakhar R, Aziz-Sultan MA. Onyx embolization of carotid-cavernous fistulas. J Neurosurg 2010;112(3):589-594.  https://PubMed.gov/19591548. DOI: 10.3171/2009.6.Jns09132
Zhang X, Guo W, Shen R, Sun J, Yin J, Chen X, Gao L, Chen Z, Zhang Q. Combined use of Onyx and coils for transarterial balloon-assisted embolization of traumatic carotid-cavernous fistulas: a report of 16 cases with 17 fistulas. Journal of NeuroInterventional Surgery 2016;8(12):1264-1267. DOI: 10.1136/neurintsurg-2015-012107
Suggested citation format
Case #1
Cohen AW, Allen R. Carotid Cavernous Fistula. EyeRounds.org. May 14, 2010; Available from: http://www.EyeRounds.org/cases/111-Carotid-Cavernous-Fistula.htm.
Case #2 and Major Update
Choi D, Benage M, Radmall BR, Ko AC, Shriver EM. Acute Post-traumatic Direct Carotid Cavernous Fistula. EyeRounds.org. December 18, 2019; Available from: http://www.EyeRounds.org/cases/111-Carotid-Cavernous-Fistula.htm.
last updated: 1-13-2020