Serpiginous Choroiditis:
60-year-old male with 15 year history of serpiginous choroiditis reports a 2-day history of a new scotoma noticed on Amsler Grid testing of his right eye
February 21, 2005
Chief Complaint: 60-year-old male with 15 year history of serpiginous choroiditis reports a 2 day history of a new scotoma noticed on Amsler Grid testing of his right eye. His left eye is unchanged and has been about 20/125 for the last 13 years.
Medical History: Coronary artery disease. History of MI with stent placement.
Current Meds: Prednisone, 5 mg PO daily.
Ocular Exam:
VA: 20/20-1 OD and 20/125 OS
IOP: 14 OD, 16 OS.
SLE: Normal OU. No Cell or Flare in either eye. Remainder of SLE normal.
Vitreous: Clear OU. No posterior vitreous cell in either eye.
DFE: In the right eye there is an atrophic scar with RPE clumping in the papillo-macular bundle just off the optic nerve. There is another scar supero-temporal to the fovea. Just temporal to the fovea is a creamy colored area a little over a disc area in size consistent with serpiginous reactivation at the margin of a previous scar.
The left fundus has a large dry scar involving the fovea.
Figure 1: Fundus photos, OU. Atrophic scars are evident in both eyes. The fuzzy, gray-cream colored geographic area of serpiginous reactivation is seen temporally in the right eye (*).

A fluorescein angiogram was performed to further characterize the lesion OD (see Figure 2).
Figure 2: Fluorescein Angiogram: There is blockage of fluorescence in the early frames of the right eye in the area of the active disease. In the late frames (labeled numbers 3 and 4), the margins of this area hyperfluoresce.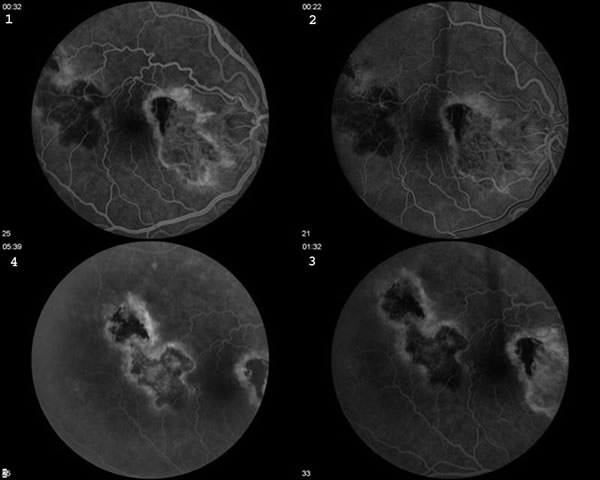 Discussion
Serpiginous Choroiditis (Geographic helicoid peripapillary choroidopathy), OU, with new area of reactivation temporally, OD.
Serpiginous choroiditis is a bilateral idiopathic disorder characterized by geographic, helicoid destruction of the choroid and RPE. Subsequent destruction of the retina leads to a permanent visual disability, especially when the disease involves the central macula. This case demonstrates a variety of findings unique to this entity. In the right eye, one notices the old peripapillar scar. This disease frequently begins in the peripapillar region and spreads centripetally through the posterior pole. The left eye in this example shows the results of this progressive serpentine spread. Also, the right eye shows a scar along the superotemporal arcade with a characteristic area of active disease adjoining the old scar. Most of the time, areas of activation occur at the margins of old lesions. Occasionally, one will notice "skip" lesions that have areas of normal RPE between old scars and the new areas of activation. One will occasionally notice posterior vitreous cell and rarely, anterior uveitis.
The etiology of this disease is unknown. Immune mediated vasculitis with subsequent occlusion of the choroidal vessels is one proposed mechanism. An associated elevation of von Willebrand factor has been reported, but its significance is unclear. The fact that these patients have multiple recurrent inflammatory episodes has led some to speculate that infection (possibly herpesvirus) may be the cause.
Besides progressive foveal scarring, these patients also lose vision as a result of choroidal neovascularization. Retinal vasculitis and retinal vein occlusions may also occur.
Many combinations of anti-inflammatory regimens have been prescribed for serpiginous choroiditis. Azathioprine and cyclosporine have both been used as long term steroid sparing agents. Acute disease is regularly treated with corticosteroids. Intravenous, oral, periocular, and intraocular steroids have all been tried. There are some that recommend acyclovir based on the belief that herpes-virus may be the etiologic entity. Considerations when deciding upon a course of treatment for active lesions include proximity to the fovea, status of the other eye, presence or absence of a CNVM, systemic disease in the patient that may be exacerbated by treatment, previous experience of the treating physician and the patient's wishes. The efficacy of long term immunosuppression in preventing and/or minimizing recurrences has yet to be determined.
Plan: For this patient, we initiated pulse intravenous methylprednisolone at a dose of 1 gram/day for 3 days. Subsequently, we recommended an oral prednisone taper.
Diagnosis: Serpiginous Choroiditis (Geographic helicoid peripapillary choroidopathy)
EPIDEMIOLOGY

Middle-aged individuals (30-60 yrs, usually)
No distinct gender nor race predilection (possible slight male preponderance)
No genetic factors identified
No known related syndromes nor systemic associations

SIGNS

Acute lesions are gray-white, and geographic in shape, often with a light surrounding border. Active lesions often extend outward beyond older scars in serpentine fashion.
Atrophic scars later result due to extensive atrophy of the choriocapillaris, RPE, and retina with hyperpigmentation at the adjacent to atrophic areas.
Mild vitritis may be present in active disease
Skip lesions may occur
Subretinal neovascular membranes may form
Phlebitis may be seen in the retinal vessels as perivascular leakage on FFA
FFA of active lesions reveals early hypoflourescence, followed later by blurred hyperflourescence especially at the lesion borders

SYMPTOMS

Many individuals are asymptomatic until the fovea or para-foveal region is affected
Central or paracentral scotomas (patients can often draw scotoma that mimic the shape of macular lesions (Amsler grid testing is very valuable in these patients)
Metamorphopsia
Visual field loss
Blurred vision

TREATMENT

Juxtafoveal or foveal active lesions should be treated with steroids (IV followed by PO taper is often used). Some recommend peri-ocular steroid injections
Azathioprine and cyclosporine have also been recommended.
Some have reported success with acyclovir
Laser photocoagulation may be helpful for treating CNVMs, but evidence is still lacking
Differential Diagnoses for Serpiginous Choroiditis
Acute Multifocal Placoid Pigment Epitheliopathy (AMPEE)
Age-Related Macular Degeneration (ARMD)
Angiod streaks
Toxoplasmosis
Presumed Ocular Histoplasmosis Syndrome (POHS)
Previous laser therapy
References
Christmas NJ, Oh KT, Oh DM, Folk JC. Long-term follow-up of patients with serpinginous choroiditis. Retina. 2002 Oct;22(5):550-6.
Laatikainen L, Erkkila H. Subretinal and disc neovascularisation in serpiginous choroiditis. Br J Ophthalmol. 1982 May;66(5):326-31.
Priya K, Madhavan HN, Reiser BJ, Biswas J, Saptagirish R, Narayana KM, Rao NA. Association of herpesviruses in the aqueous humor of patients with serpiginous choroiditis: a polymerase chain reaction-based study. Ocul Immunol Inflamm. 2002 Dec;10(4):253-61.
Quillen DA, Blodi, BA. Clinical Retina, pp 266-267. Chicago, IL, AMA Press, 2002.
Schatz H, McDonald HR, Johnson RN. Retina, 2nd ed, Stephen J. Ryan Editor in Chief. Medical Retina, Vol 2. St. Louis, MO: Mosby, 1994. Ch. 109.
Suggested citation format: Zumbro D, Folk JC. Serpiginous Choroiditis: 60-year-old male with 15 year history of serpiginous choroiditis reports a 2 day history of a new scotoma noticed on Amsler Grid testing of his right eye. EyeRounds.org. February 21, 2005; Available from: http://www.EyeRounds.org/cases/32-SerpiginousChoroiditis.htm.
last updated: 02-21-2005