Cavernous Hemangioma:
31-year-old caucasian female with a painless, "dark spot" in her left visual field
Feb. 21, 2005
Chief Complaint: 31-year-old caucasian female presented with a painless, "dark spot" in her left visual field.
History of Present Illness: Dark spot fixed in supero-nasal left visual field that she noticed for one day. No complaints of flashes or floaters. Patient noted that the dark spot in her vision clears with abduction.
Past Ocular History: Peripheral atrophic holes OD
Medical History: Cerebral palsy
Social History: Librarian. No tobacco or alcohol.
EXAM:
Best corrected Va: 20/30 OD, 20/20 OS
IOP: 18mmHg OD, 15mmHg OS
Pupils: 4 --> 2 OU, no RAPD
Motility: Full OU, orthotropic in primary
CVF: Full OU by finger counting, but see GVF below.
SLE: Anterior cortical spoking cataract OS
Optic nerves were normal OU
DFE: Atrophic holes OD, macula striae OS
Palpebral fissure: 10mm OD and OS
Hertel: 92mm base; 17mm OD and 18mm OS
Figure 1: GVF

| | |
| --- | --- |
| GVF OS with supero-nasal and infero-nasal constriction of all isopters. | GVF OD with temporal scotoma. |
| | |
Figure 2: Fundus Photo

| | |
| --- | --- |
| Fundus Photo OD | Fundus Photo OS |
| | |
| Right eye had peripheral atrophic holes corresponding to the temporal scotoma on GVF. | Macular striae seen OS from intraconal mass. |
Figure 3: FFA

| | |
| --- | --- |
| OD (Normal) | OS |
| | |
| Note: negative film FFA | Macular striae OS seen on FFA. |
Figure 4: ECHO notable for round, encapsulated mass behind the globe OS (white arrow heads). A-Scan of lesion was highly reflective and suggestive of numerous vascular channels.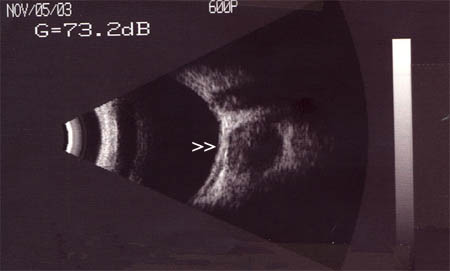 Figure 5. CT scan of orbits notable for a well-circumscribed, intraconal, round mass that was not eroding into surrounding tissues or bone. Mass was isodense to muscle (arrow heads).

| | |
| --- | --- |
| | |
Figure 6: An orbitotomy was performed by the oculoplastics service, and an encapsulated mass was removed and submitted to ocular pathology.
Path Slide #1
Path Slide #2

Path Slide #3


Path Slide #1: A large thrombus with inflammation (*) obscurred much of the large, dilated vascular spaces filled with blood. Immunohistochemistry confirmed that the thrombus contained mostly endothelial cells and fibroblasts, which ruled-out a neoplastic process. Thrombus formation is common because venous blood perfuses sluggishly through the cavernous hemangioma.

Path Slide #2: Large, dilated vascular spaces filled with blood. Cavernous hemangiomas have pseudoencapsulated vascular channels separated by fibrous septa.

Path Slide #3: Some inflammatory cells were found in this lesion. However, significant stromal inflammation and lymphoid follicles may support the diagnosis of a lymphangioma.
Diagnosis: Cavernous Hemangioma
EPIDEMIOLOGY

Most common benign orbital tumor in adults.
Vascular hamartoma.
Average age of diagnosis: 40
Cause is unknown.

SIGNS

Unilateral, painless proptosis.
ECHO shows intraconal mass.
CT scan shows well-circumscribed, intraconal, round mass without invasion into adjacent soft tissue and bone.

SYMPTOMS

Vision not usually affected unless mass is pushing on the eye.
May cause optic nerve compression leading to visual loss, gaze-evoked amaurosis, or optic nerve swelling.
Low flow vascular lesion.

TREATMENT

May be observed with regular follow-up to confirm mass is not growing and there is no visual loss.
May be removed surgically via orbitotomy.
Differential Diagnosis:
lymphoid lesions of the orbit (benign reactive lymphoid hyperplasia, lymphoma, atypical lymphoid hyperplasia)
optic nerve meningioma
orbital metastasis
neurofibroma
neurilemoma (a.k.a. benign schwannoma)
fibrous histiocytoma
hemangiopericytoma
lymphangioma
Suggested citation format:
Shriver EM. Cavernous Hemangioma: 31-year-old caucasian female with a painless, dark spot in her left visual field. EyeRounds.org. Posted Feb. 21, 2005. Available from http://www.EyeRounds.org/cases/1-CavernousHemangioma.htm.
last updated: 02-21-2005