Rhegmatogenous retinal detachment
A rhegmatogenous retinal detachment results when liquified vitreous passes through a retinal break into the potential subretinal space.
Figure 1.
Category:
Contributors: Zachary Q. Mortensen, MD; Razek G. Coussa; MDCM; James C. Folk, MD; H. Culver Boldt, MD
Photographer: Jody M. Troyer, CRA
Posted February 25, 2021
71-year-old man presented with 2 weeks of blurred vision and curtain-like vision loss obscuring the inferior portion of his left visual field. Visual acuity was 20/50+2. Fundoscopy (see image) demonstrated a large horseshoe break at 12:30 at the equator, with a slightly rolled edge and a bridging vessel. There was subretinal fluid from 10:00 clockwise to 3:00, extending posteriorly to just involve the center of the fovea. This macula-involving rhegmatogenous retinal detachment was repaired surgically. Three months later, his vision improved to 20/20.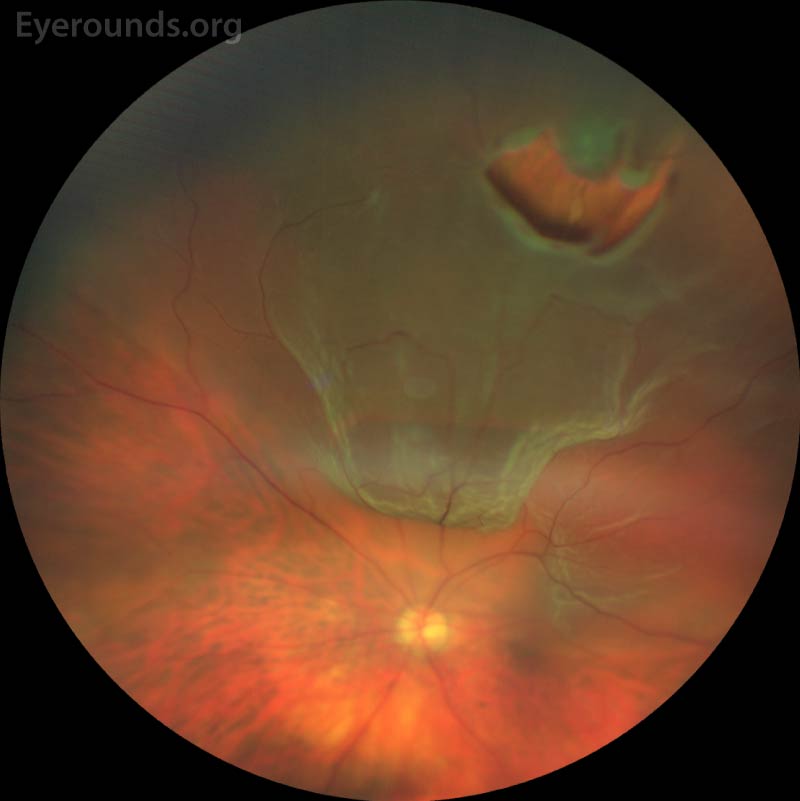 Related Links:
---
Figure 2.
Contributor: Jesse Vislisel, MD
Photographer: Cindy Montague, CRA
Posted January 24, 2016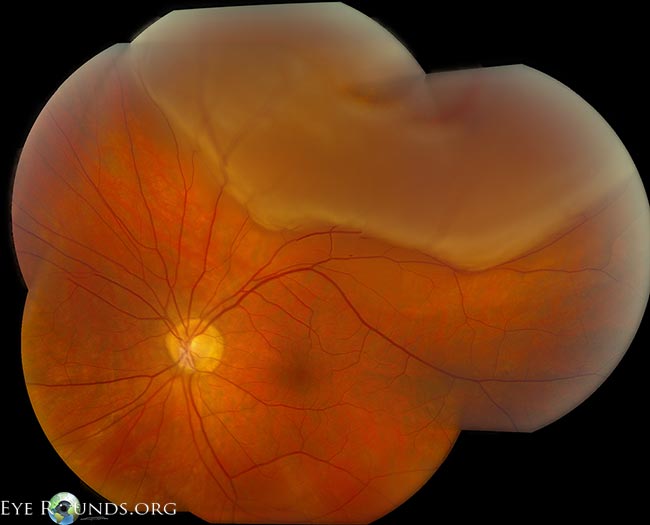 This photograph shows a superior rhegmatogenous retinal detachment that is not yet involving the macula.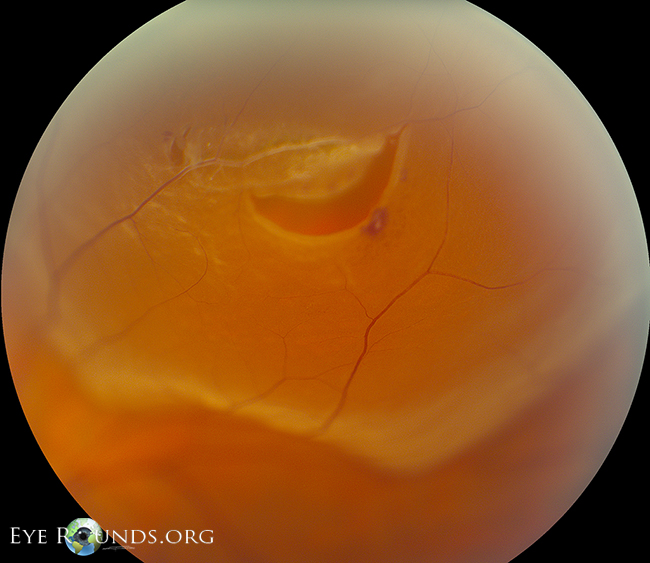 The second photograph shows a closer view of the primary horseshoe tear with two smaller retinal tears nearby. Lattice degeneration and intraretinal hemorrhages can be seen adjacent to the tears.
---
Figure 3.
Contributors: Lucas T. Lenci MD, Elaine Binkley MD, Jessica Watson MD, Culver Boldt MD
Photographer: Brice Critser, CRA
This is a patient who presented with an inferior visual field defect and multiple flashes and floaters. These images demonstrate an excellent example of a large, superior horseshoe tear with a bullous retinal detachment.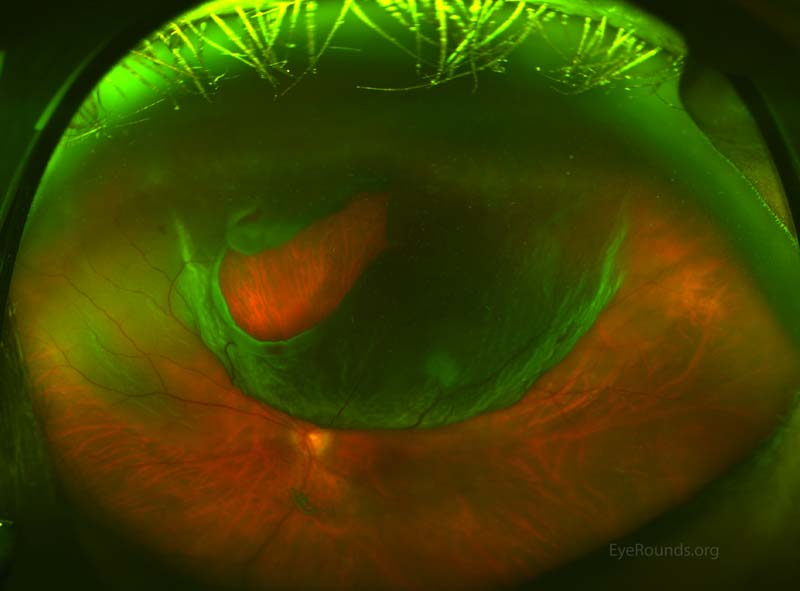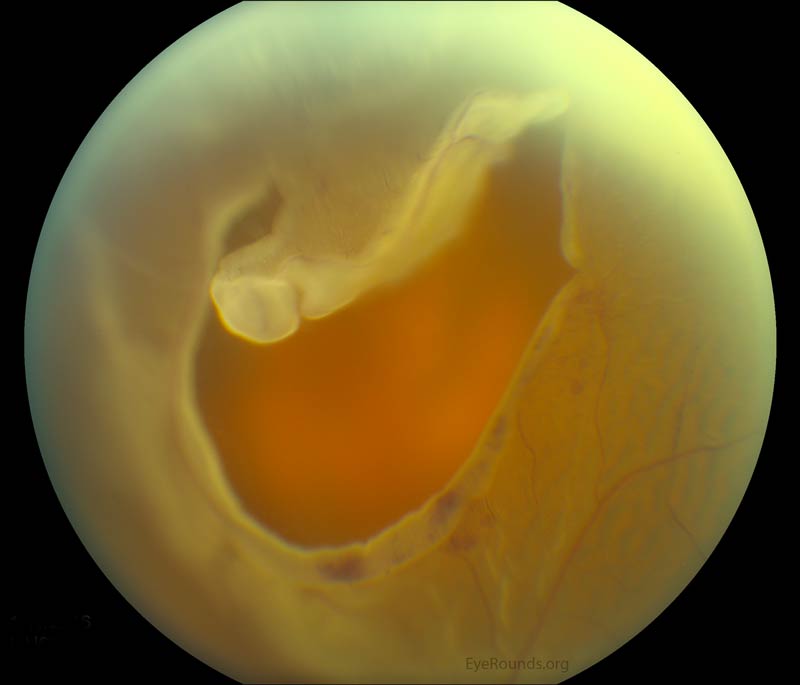 ---
Figure 4.
Contributor: Tressa Larson, OD FAAO
Photographer: Andrea Starkweather
These OCT images show an inferior, macula-off, chronic rhegmatogenous retinal detachment.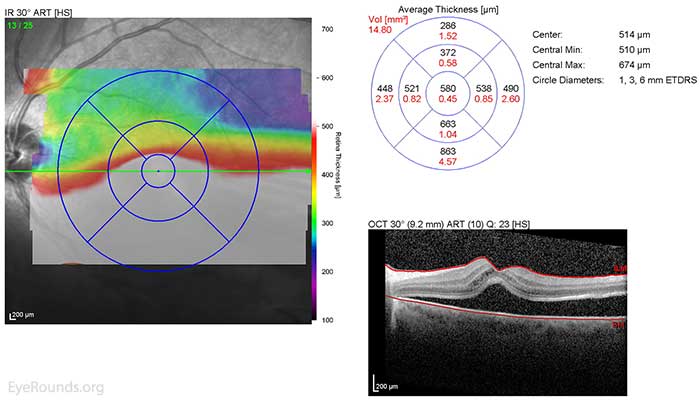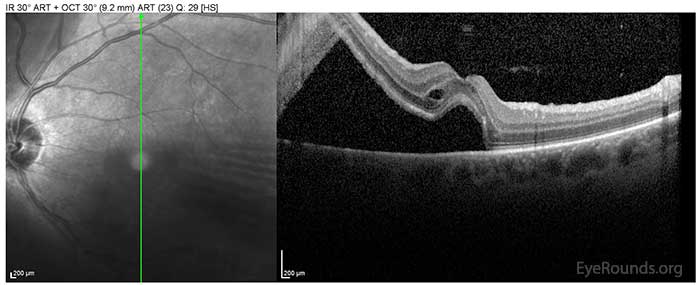 see more detailed information and additional photos of Macula-off Rhegmatogenous Retinal Deatchment
---

Ophthalmic Atlas Images by EyeRounds.org, The University of Iowa are licensed under a Creative Commons Attribution-NonCommercial-NoDerivs 3.0 Unported License.
last updated: 02/26/2021