Christmas Tree Cataract
Contributor: Elizabeth Gauger, MD and Anna Kitzmann, MD
Photographer: Stefani Karakas, CRA
Christmas tree decoration cataract or polychromatic cataract
(click on image for higher resolution)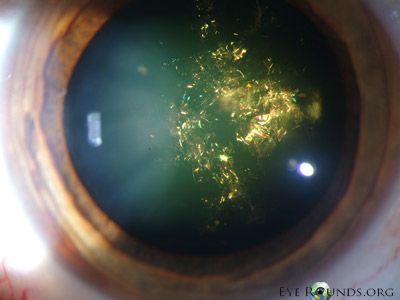 Suggested Reading:
1. Hayes BP, Fisher RF. Ultrastructural appearances of a lens with marked polychromatic lustre: evidence for diffraction as a cause. Br J Ophthalmol. 1984 Dec;68(12):850-8.
2. Shun-Shin GA, Vrensen GF, Brown NP, Willekens B, Smeets MH, Bron AJ. Morphologic characteristics and chemical composition of Christmas tree cataract. Invest Ophthalmol Vis Sci. 1993 Dec;34(13):3489-96
3. Obi EE. A Christmas tree cataract. BMJ 2010;341:c6644
---

Ophthalmic Atlas Images by EyeRounds.org, The University of Iowa are licensed under a Creative Commons Attribution-NonCommercial-NoDerivs 3.0 Unported License.
last updated: 07/31/2013